Cable Gland Sizes: Selecting Correctly
The following steps, together with the information throughout our cable gland catalogue, will ensure that the CMP cable gland size and specification selected will be fit for purpose and perform optimally.
Alternatively, view our full range of cable glands here.
Identify the type of cable to be used
Check the construction, size and material properties of the cable
Check the size of the overall cable diameter 'B'
When the cable is armoured, check the following in addition:
Type and material of the cable armour*
Short circuit fault current rating of the cable armour**
Diameter of the inner bedding (where present) 'A'
Diameter of the lead covering (where present)
Size and type of armour or braid (where present) 'C'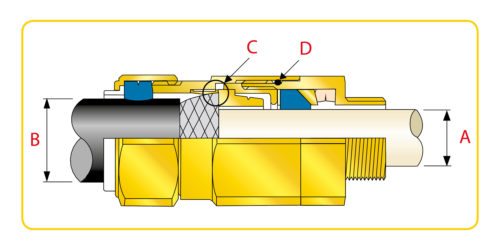 Understanding the intended installation for the Cable Gland, check the following:
Any special environmental requirements in relation to corrosion protection
The material of the mating electrical enclosures to eliminate dissimilar metals where possible or if required
Whether any protective plating or coating is required to be applied to the Cable Gland, e.g. Nickel Plating
The type and size of the cable entry hole in the mating electrical equipment
The wall thickness of the enclosure or gland plate, as a longer cable gland thread may be required
The ingress protection rating of the electrical equipment or site standard required to be maintained
Whether a single seal or double seal Cable Gland is required
If an entry thread sealing washer is required to meet the ingress protection rating
Is there is a deluge protection requirement 'D'
If fixing accessories such as locknuts and serrated washers are required
If an earth tag or grounding locknut is required**
If shrouds are required
If a thread conversion adaptor/reducer is required to complete the installation
If any stopper plugs are required to close unused cable entries
Select a Cable Gland type
For installations in explosive atmospheres, special considerations should be taken into account to ensure compliance with national or international standard codes of practice.
Accessory Selection
In addition to entry thread sealing washers, CMP also provides standard locknuts, grounding locknuts, earth tags, serrated washers and shrouds as required, which should be used as appropriate to the installation standard or equipment configuration.
These CMP accessories may be critical to the safety of the installation and overall performance, it is vital that the CMP accessories are correctly specified and installed. Accessories are not typically included with the cable glands as standard, unless a cable gland pack/kit is ordered.
In order to maintain product warranty it is vital that genuine CMP accessories are used for installation of CMP cable glands. Compatibility of material selection, short circuit rating (in the case of earth tags and grounding locknuts) and sealing performance (in the case of sealing washers) cannot be guaranteed if accessories from other sources are used.
*If the cable armour is of a non-standard material, e.g. Aluminium Wire Armour, it may be necessary to consider an alternative Cable Gland material, e.g. Aluminium.
**For certain medium voltage and high voltage cables, with higher fault rate levels, CIEL Cable Glands, which have been tested for higher SCC faults may be required.