Key Features of CMP Cable Glands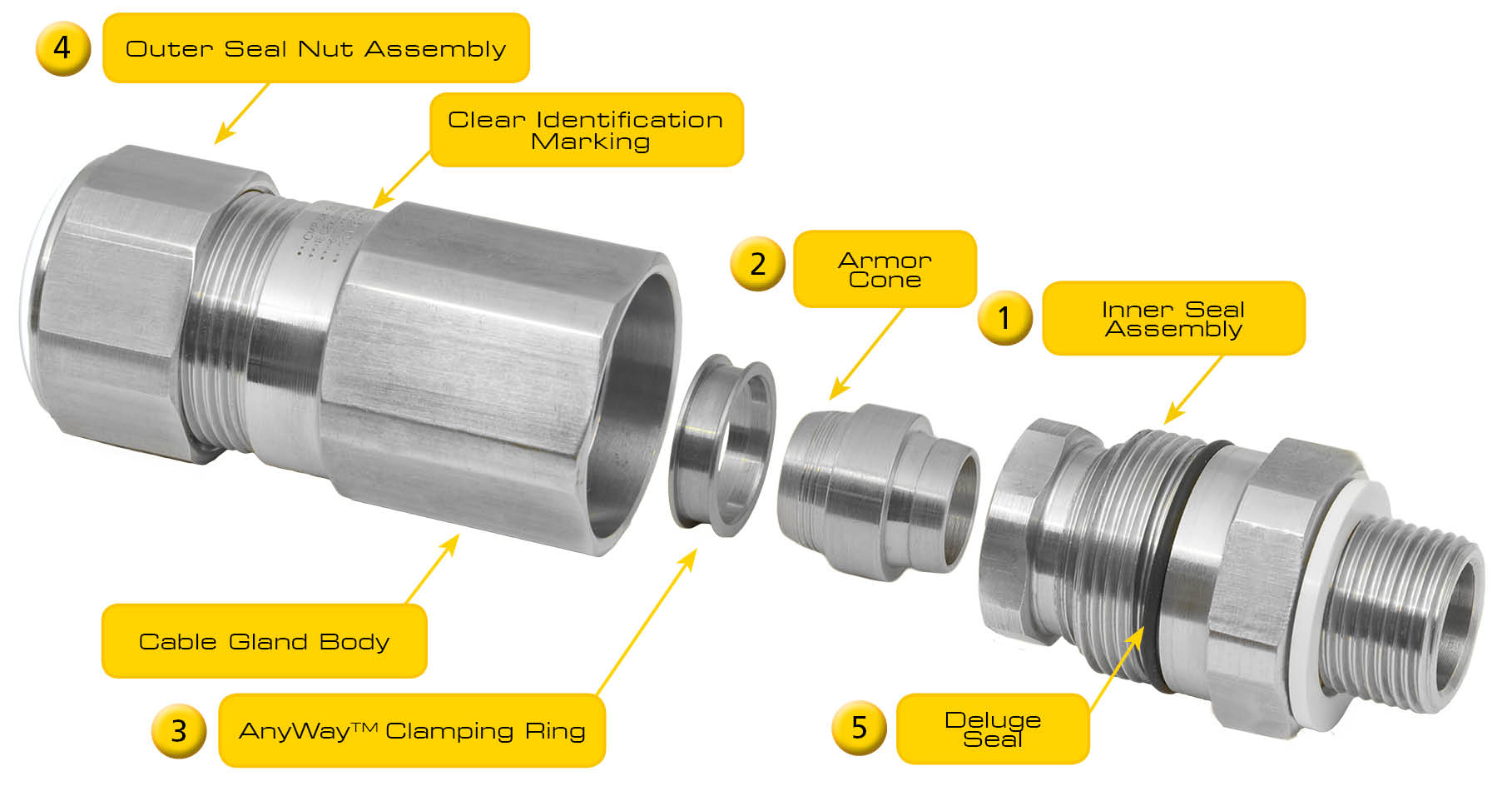 Above is a typical CMP double seal Cable Gland showing the parts in an exploded view
(1) Unique Independent Inner Sealing
The CMP inner sealing principal is quite different from other cable gland types and because the activation of the inner sealing ring is separated from the armour clamping components this means that the possibility of inadvertent over-tightening is eliminated. Unlike traditional compression seals that have no means of direct control on their application, the CMP inner sealing technique is achieved using a displacement seal that is independently controlled by the user during installation.
The Compensating Displacement Seal System (1) has helped CMP to take its original displacement sealing ring concept to another level. The unique Compensator has allowed the cable gland components to be fully tightened metal-to-metal and relieve the potential excess forces that could be transferred to the cable bedding, eliminating potential cable damage and coldflow.
(2) (3) Secure Armour Termination
CMP Products' armour clamping method involves a unique termination solution that ensures a permanent crimping of the cable armour, creating a low impedance connection that does not suffer from self-loosening. The patented AnyWayTM clamping ring aids an easy 'Right First Time' installation. Secure armour clamping like this also contributes to enhanced levels of EMC performance as well as reliable earth continuity.
(4) Outer Seal
The unique CMP Products Outer Seal Tightening Guide (OSTG) and Load Retention Sealing Ring (LRS) ensure an IP/NEMA rated seal is formed around the cable to the correct degree. As similar solution is also provided for the sealing rings in our Cable Glands for unarmoured cables.
(5) Proven Internally Enclosed Deluge Seal
CMP Products integrated 'O' ring deluge seal (tested to DTS 01:91) prevents corrosion of the cable armour by ensuring that moisture cannot track around the Cable Gland threads and into the armour termination body. As an internally enclosed deluge seal the 'O' ring is protected from mechanical damage and harmful UV rays.