TruSeal
CMP Products remains in constant touch with the development of national and international technical standards and is therefore able to offer product solutions that are certified for multiple global applications.
Certification to IEC/EN 60079
Both polymer and metallic TruSeal cable glands have been extensively tested and certified in accordance with the latest IEC/EN 60079 standards for:
Part 0: Equipment – General requirements,
Part 7: Equipment protection by increased safety 'e',
Part 31: Equipment dust ignition protection by enclosure 't'.
This means that TruSeal products are safe and certified for use in Zone 1, Zone 2, Zone 20, Zone 21 and Zone 22 where an explosive atmosphere may occur; and will maintain the integrity of the installation with appropriately certified equipment.
Minimum Requirements for Increased Safety Type 'e' (Ex e) Cable Glands
Thermal endurance tests: Variable according to material selection. Determined by IEC 60079-0
Cable pull out resistance: Variable according to cable type selection; cable diameter; and cable gland performance capabilities. Determined by IEC 60079-0
Impact resistance (Group II): 4 Joules (low risk) or 7 Joules (high risk)
Ingress protection rating: IP54 minimum
Cable gland/equipment interface seal is required
Single seal as a minimum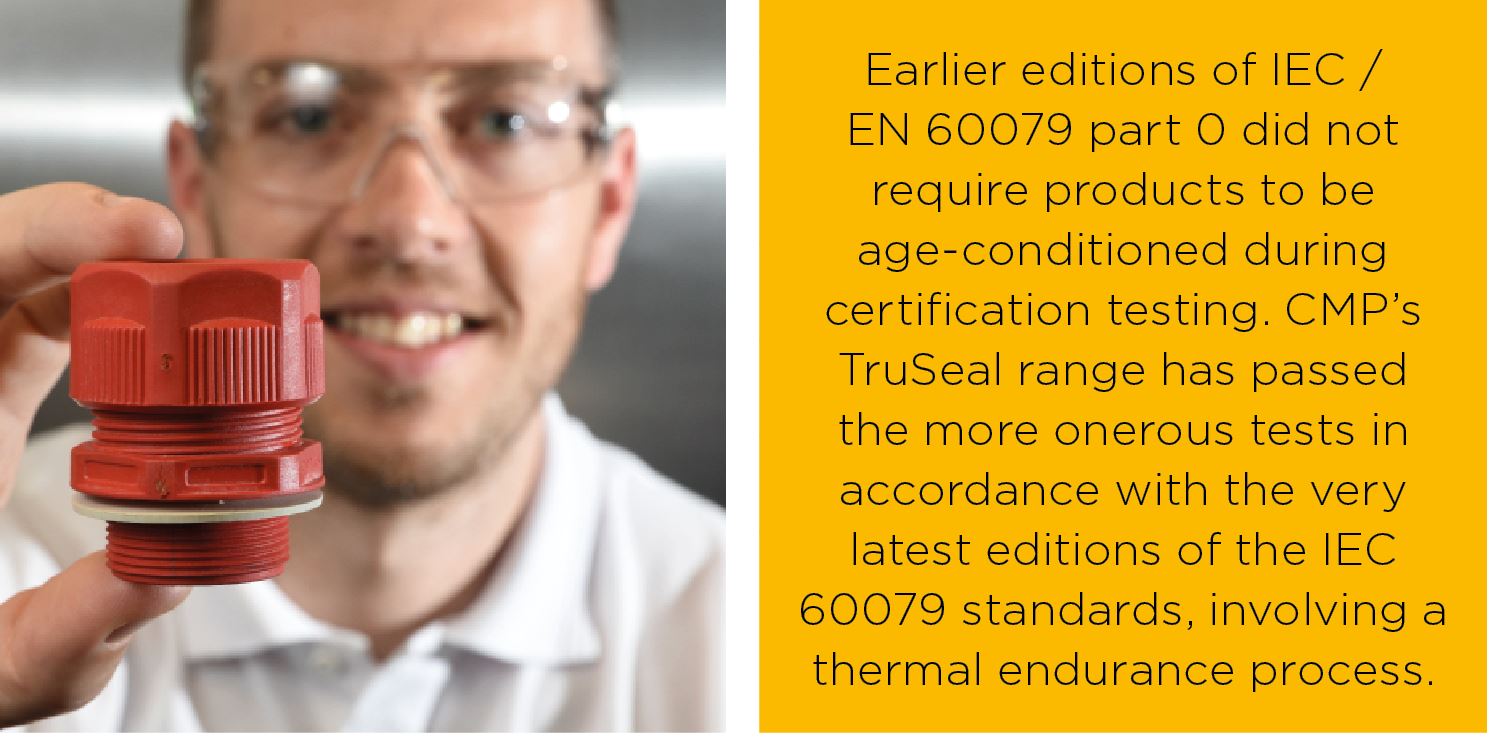 FORM OF PROTECTION Ex 'e'
(Increased Safety Enclosure Type 'e') –
IEC 60079-7:
Whilst explosive mixtures may enter the equipment, the enclosure is not designed to withstand an internal explosion. Instead, the likelihood of a fault condition, which could result in ignition of explosive mixtures, is significantly reduced by the following measures. The (non-incendive) components used in the equipment shall not produce arcs or sparks or dangerous temperatures in normal working conditions. The equipment or component usually has a maximum voltage rating of 11kV.
Electrical connections and insulation are selected for high reliability and effectiveness. The level of protection against the ingress of dirt and moisture ensures that the prospect of component contamination is substantially reduced. Two fundamental requirements of Ex 'e' protection are that the equipment shall be protected to IP54 minimum for gas / vapour, and have an impact strength of 7J for general use (20J for Group I Mining), or 4J in areas where the risk of mechanical danger (damage) is low (7J for Group I Mining).
As this form of protection can be used in both Zone 1 and Zone 2 Areas, it is often preferred to Ex 'd' due to the need for reduced levels of maintenance and inspection. Another major consideration is that Ex 'e' equipment is generally constructed from lighter weight materials, which often leads to lower cost and easier handling. source: IEC 60079-7-2015
In the non-metallic TruSeal range, products suitable for Ex i (intrinsically safe) applications are available with a blue coloured outer seal nut for easy identification.