Triton T3CDS Series
Simple, Sequential, Right First Time Installation
Triton CDS (T3CDS) cable glands are designed for use in explosive atmospheres and provide superior sealing on the cable inner sheath, through the patented compensating displacement seal (CDS) system.
Suitable for a range of different armoured cable types and sizes, the unique design of the Triton CDS cable glands allows for a quick and easy assembly process, with a three step make-off procedure reducing installation time, cost and risk.
The Triton CDS cable gland range has ATEX, IECEx, cCSAus and UL certification (amongst others) to the latest global technical standards, and is fully compatible with IEC, AS/NZS, NEC & CEC wiring code rules.
Find out how the Triton CDS could work for you
Jump to products
How does the Triton CDS system work?
The Triton CDS (compensating displacement seal) system works by allowing the relevant cable gland components to be fully tightened metal-to-metal and relieve the potential excess forces that could be transferred to the cable bedding, eliminating cable damage.
What is the role of a deluge seal in the Triton?
A deluge seal, tested to Shell DTS01:91, is utilised within all products in this range. The seal is a proven, reliable 'O' ring arrangement which is integrated, protecting it from damage during its lifetime.  The deluge seal works to prevent corrosion of the cable armour by ensuring that moisture cannot track through the cable gland threads and reach the armour termination.
Robust, Heavy Duty Design
The Triton CDS is designed for application in hazardous environments, where a rugged design is required so that the product can withstand the effects of the external environment over prolonged periods of time.
The design of the product allows for ease of installation –  the Triton CDS incorporates a longer body length (see below) making it easy to install.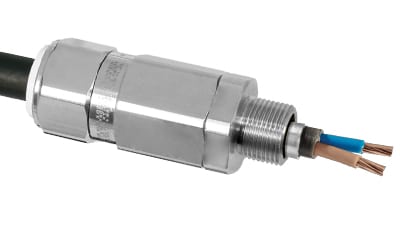 Make an enquiry today
We'd like to keep in touch
We have some exciting things in the pipeline - if you'd like to be the first to know please enter your email address below.
Frequently Asked Questions
What standards is the Triton CDS (T3CDS) cable gland range approved to?
The Triton CDS (T3CDS) range of cable glands is designed and fully approved to EN and IEC 60079 parts 0,1,7,15,31 as well as CAN/CSA-C22.2 No 0, 18, 25, 30, 94, 174, UL & CAN/CSA-E60079-0, 1, 7, ANSI/UL 514B, ANSI/UL 50, & ANSI/UL 2225.
What further testing has the Triton CDS (T3CDS) range undergone?
Shell Deluge Test Specification DTS 01:91
IP66, IP67, IP68 to IEC 60529 – with IP68 tested to a minimum depth of 30 metres for 12 hours.
EMC tested to EN 55022 (Class B) and generally in accordance with IEC 60533
Enclosure Type 4X to NEMA 250
Vibration testing to IEC 60068-2-6
What types of cable is the range suitable for use with?
The standard universal Triton CDS (T3CDS) range is suitable for the following types of armoured cable: single wire armour, aluminium wire armour, pliable wire armour, steel tape armour, aluminium strip armour, screened flexible (e.g. CY / SY), other Screened EMC cables, and a variety of wire braid including bronze wire braid, copper wire braid & steel wire braid.
CMP can also supply variations of the Triton CDS (T3CDS) for the following types of cable:
Lead sheathed or lead covered and single wire armour (steel or aluminium)   – T3CDSPB
Variable speed drive cable with copper tape screen – T3CDSVAR
Dedicated armour cone, suitable for pliable wire armour, steel tape armour, aluminium strip armour, screened flexible (e.g. CY / SY), other screened EMC cables, and wire braid – T3CDSX
Dedicated armour cone, suitable for single wire armour (SWA) cables, steel or aluminium – T3CDSW
What Triton CDS (T3CDS) cable gland materials are available?
CMP Products offers cable glands in brass, brass with eletroless nickel plated finish and copper free aluminium.
What is the operating temperature?
The standard operating temperature of the Triton T3CDS (T3CDS) range is -60°C to +130°C, with a ThermEx option available (T3CDSHT) providing an extended operating temperature of -20°C to 200°C.
Which environments is the Triton range of cable glands suitable for?
The Triton CDS (T3CDS) range of cable glands can be used in a variety of different situations, and is ideally suited for installation in harsh locations including service in salt-laden atmospheres, exposed coastal landscapes, offloading structures, such as ports, wharfs, and jetties and in hostile marine conditions where standard cable glands without deluge protection may quickly perish.
The Triton CDS (T3CDS) range is certified for explosive atmosphere environments, and used across many areas in the upstream, midstream and downstream industries including offshore platforms, oil and gas refineries, petrochemical facilities, transportation and storage facilities.
Where can I buy these cable glands?