Singapore Tunnel Project
Project Name: Singapore Tunnel
Owner: Singapore Power Group
Client: Taihan, Furukawa, CIWE, LS Cables
Country: Singapore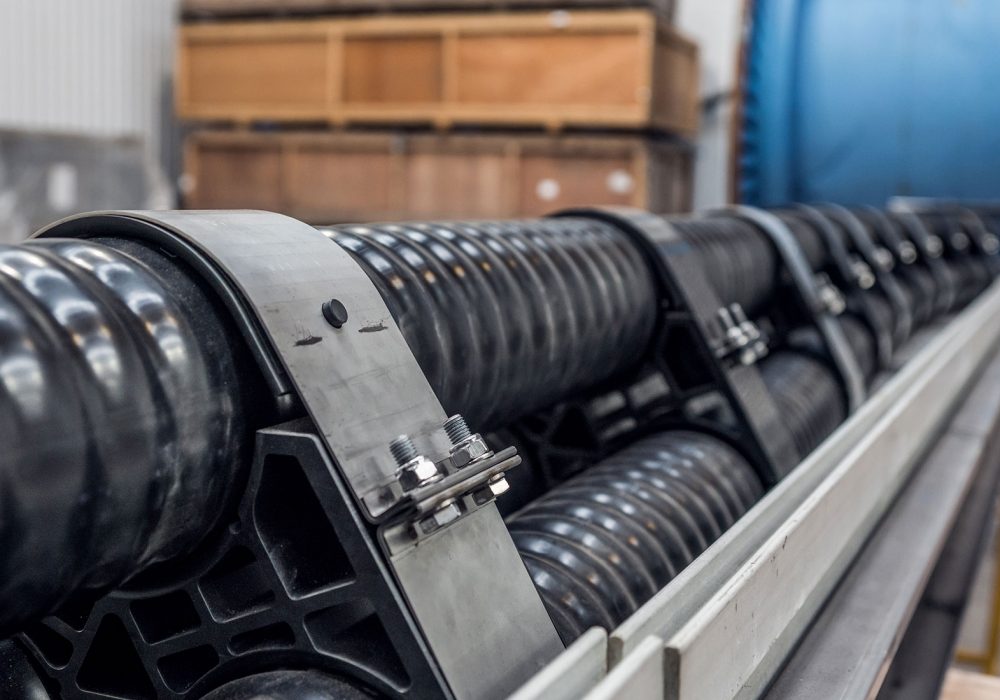 Key Facts:
Project to futureproof Singapore's electricity supply for the next 120 years
1,200km of high-voltage 230kV and 400kV cables
Tunnels lying 60-80m below ground in Singapore
High voltage cable cleats developed to meet specific requirements
The Singapore tunnel system will span approximately 40km and have the capacity to house 1,200km of high voltage cables, to supply demand for electricity within Singapore.
Housed in cable ducts, cable cleats were required to restrain circuits of 230kV and 400kV cables. It was essential for the cleats to allow cables to thermally expand and contract during normal operation, as well as safely restrain the cables during short circuit conditions.
Technical Challenges

Thermal Expansion

The cables had to be 'snaked' horizontally within cable ducts, allowing for thermal expansion and contraction, so the cleats had to work as a system with some being rigidly fixed and some allowed to slide as the cable moved.

Spacing
The design specification was for large HV cable, and unlike CMP's other cable cleat designs, required the cable conductors to be spaced apart when in trefoil formation.

Sizing
The cable cleats were required to fit within the cable duct with a limited available space of 737mm x 430mm. This meant that the cable cleat design had to fit within the available space, taking into account the cable diameter of 175mm & cable centre to centre spacing of 240mm.

Short Circuit Test
The requirement to short circuit test the cleats as installed meant that CMP had to design and build bespoke test rigs in excess of 10m long, then ship these to a third-party testing house in Holland.

Cable Weight
The 400kV cable weighed approximately 400kg per 10m length, with a diameter size of 175mm and with the 230kV weighing in at approximately 340kg per 10m length. The cable cleats needed to be capable of restraining this axial load.

Life Span
The solution required a 40 year life span.

Manufacturing
New manufacturing methods were adopted to ensure efficient production of the cable cleats involving state of the art machinery and training of personnel.

The Solution

A trefoil 400kV solution was developed from 316L stainless steel, with a fibre reinforced plastic (FRP) low smoke & fume insert. This was followed by a similar trefoil design for the 230kV cable.

Single cable cleats and a large range of special 'joint bay' cleats were also developed to restrain the cables in the areas where they are 'transposed' and two lengths are joined together.

CMP carried out finite element analysis (FEA)to simulate short circuit testing, life time analysis and thermal analysis to identify how cables perform when installed (pictured below).

Bespoke test rigs were built up to enable short circuit testing.

Pictured: An original prototype at the beginning of the development process

The Outcome

CMP's cleat development team designed a range of new, bespoke products, working alongside the client, and adjusting the design throughout the development process, to ensure the solution met the requirements of the project. Incorporating stainless steel frames as well as injection moulded inserts allowed cables to be spaced away from each other to prevent overheating and reduce the effects of eddy currents.

The final products were successfully third-party tested to the short circuit requirements of the project, as well as a number of additional tests including axial load, lateral load and voltage withstand.

Summary

Further Reading

Why use a Cable Cleat: https://www.cmp-products.com/cable-cleats/technical-cable-cleats/why-use-a-cable-cleat/

Stainless Steel: https://www.cmp-products.com/cable-cleats/technical-cable-cleats/cable-cleat-materials/stainless-steel-cable-cleat-materials/

Low Smoke & Fume (LSF) V0 Nylon Material: https://www.cmp-products.com/cable-cleats/technical-cable-cleats/cable-cleat-materials/low-smoke-fume-lsf-v0-nylon/