Press Enquiry? Contact the CMP
Marketing Team on
+44 191 265 7411
Sign up to get the latest news delivered to your inbox
Thursday, 6 September 2018
Introducing CMP's Cable Cleat Selector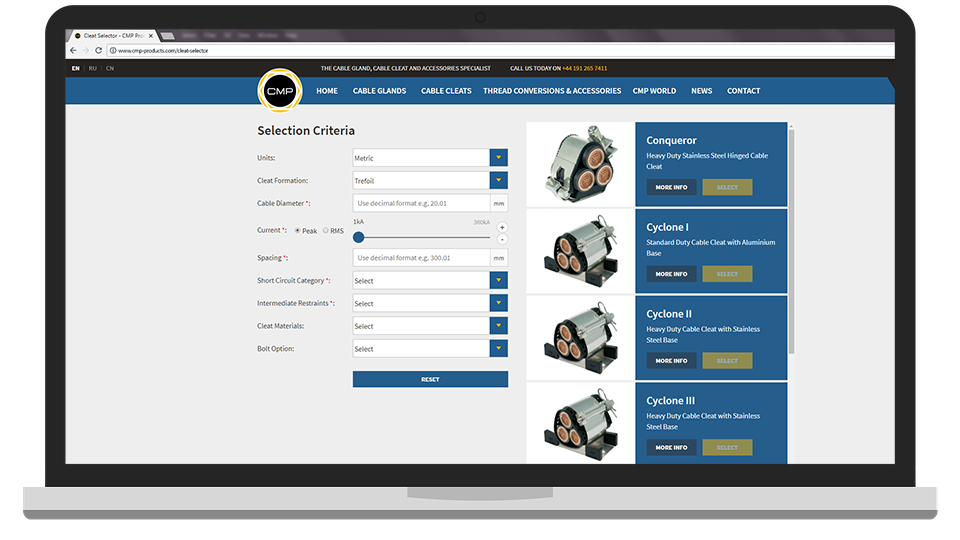 To complement its extensive range of cable cleats, CMP has launched a cable cleat selector which aids engineers and procurement teams alike to help identify the appropriate cable cleat. This removes the need to navigate through a range of product data sheets, which can often be time consuming.
Users can enter parameters such as cable diameter, spacing and peak fault current, whilst the selector displays the available cleat options for your application.
Powered by an algorithm, the cleat selector carries out calculations in the background, pulling from base data from certified short circuit tests in order to provide an accurate selection of the cable cleat options for your cable installation.
Users can then download their final selection to PDF format, alongside a share link which can be included within project documentation. A part code is also identified to allow users to easily order the selected product(s).
Find the cleat for your requirements today, visit: www.cmp-products.com/cleat-selector