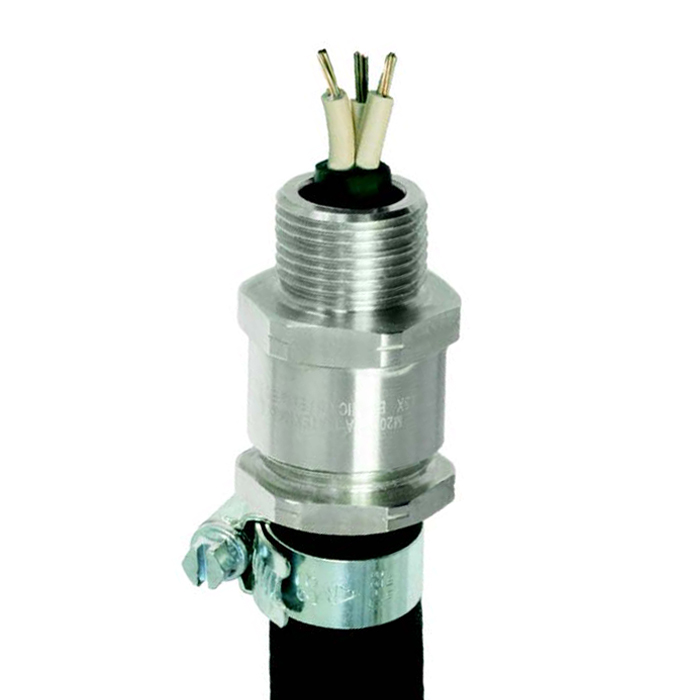 Want to discuss this product with one of the CMP Technical Team? Call one of our team now on
+44 191 265 7411
A2F100HC | Ex eb, Ex db, Ex nR, Ex ta | Group I & II Mining Cable Gland For all types of Unarmoured Cable & Enclosed within Hose for Mechanical Protection
We'd like to keep in touch
We have some exciting things in the pipeline - if you'd like to be the first to know please enter your email address below.
The A2F100HC is designed and approved for use in Group I & II mining and non-mining applications, including QLD & NSW coal mining. This product is internationally marked ATEX and IECEx and has an operating temperature rating of -60˚C to +130˚C.
The A2F100HC complies 100% with IEC 60079-0 cable retention requirements with no 'special conditions' for safe use, this removes the need for a cable clamp or cleat before the point of entry where the cable gland is installed, saving installers time, and expense for project owners.
This product includes a hose connection facility to securely attach protective hose with a cable housed within, the cable is then securely sealed using a CMP displacement seal.
The A2F100HC flameproof displacement seal protects the equipment in the event of an explosion, whilst a wide sealing range is available for each cable gland size, meaning less requirement to purchase a large range of cable gland sizes.
The A2F100HC is manufactured from high quality durable materials to prevent corrosion in mining environments.
*Hose connection not liquid tight
Design Specification
BS 6121:Part 1:1989, IEC 62444, EN 62444
Mechanical Classifications *
Impact = Level 8, Cable Anchorage = Class B
Enclosure Protection
IK10 to IEC 62262 (20 joules)
Ingress Protection Rating**
IP66, IP67 & IP68***
Cable Gland Material
Electroless Nickel Plated Brass
Seal Material
CMP SOLO LSF Halogen Free Thermoset Elastomer
Cable Type
Unarmoured & enclosed within hose for mechanical protection
Sealing Technique
CMP Displacement Seal
Sealing Area(s)
Cable Outer Sheath
ATEX Certificate
CML 18ATEX1307, CML 18ATEX4311
UKEX Certificate
"CML 21UKEX1247,CML 21UKEX4248"
Code of Protection
I M2 Ex db I Mb,
Ex eb I Mb
II 1D Ex ta IIIC Da,
II 2G Ex db IIC Gb,
Ex eb IIC Gb
Compliance Standards
EN 60079-0,1,7,15,31
IECEx Certificate
IECEx CML 18.0172, IECEx SIM 17.0010
Code of Protection
Ex db IIC Gb, Ex eb IIC Gb,
Ex nRc IIC Gc, Ex ta IIIC Da,
Ex db I Mb, Ex eb I Mb
Compliance Standards
IEC 60079-0,1,7,15,31
CCOE / PESO (India) Certificate
Ex d: P548696, Ex e: P533772 Ex nR: P548695
Jump to technical illustration
COMBINED ORDERING REFERENCE
AVAILABLE ENTRY THREADS 'C'
OVERALL CABLE DIAMETER "A"
HOSE SIZE
ACROSS FLATS "D"
ACROSS CORNERS "D"
PROTRUSION
LENGTH "F"
HOSE CONNECTION
LENGTH "G"
CABLE GLAND WEIGHT
(ozs)
SIZE
TYPE
ORDERING SUFFIX
METRIC
THREAD LENGTH 'E'
MIN
MAX
"H"
MAX
MAX
20S16
A2F100HC16
1RA
M20
0.59
0.13
0.31
0.63
0.94
1.04
1.83
0.63
4.62
20S
A2F100HC16
1RA
M20
0.59
0.26
0.44
0.63
0.94
1.04
1.89
0.63
3.99
20
A2F100HC16
1RA
M20
0.59
0.28
0.53
0.63
1.06
1.17
2.04
0.63
4.94
20
A2F100HC19
1RA
M20
0.59
0.28
0.53
0.75
1.06
1.17
2.20
0.79
4.94
20L
A2F100HC19
1RA
M20
0.59
0.34
0.55
0.75
1.06
1.17
2.14
0.79
4.87
25
A2F100HC 25
1RA
M25
0.59
0.45
0.77
0.98
1.42
1.56
2.65
1.06
8.47
25L
A2F100HC19
1RA
M25
0.59
0.55
0.79
0.75
1.42
1.56
2.36
1.30
8.32
25L
A2F100HC25
1RA
M25
0.59
0.55
0.79
0.98
1.42
1.56
2.63
1.06
8.40
32
A2F100HC32
1RA
M32
0.59
0.75
1.00
1.26
1.61
1.78
2.81
1.30
10.55
32L
A2F100HC25
1RA
M32
0.59
0.80
1.04
0.98
1.61
1.78
2.46
1.06
10.48
32L
A2F100HC32
1RA
M32
0.59
0.80
1.04
1.26
1.61
1.78
2.70
1.30
10.41
40
A2F100HC38
1RA
M40
0.59
0.98
1.27
1.50
1.97
2.17
3.14
1.61
15.17
50S
A2F100HC51
1RA
M50
0.59
1.22
1.50
2.01
2.17
2.38
3.76
2.13
29.56
50
A2F100HC51
1RA
M50
0.59
1.40
1.73
2.01
2.36
2.60
3.93
2.13
23.77
63S
A2F100HC63
1RA
M63
0.59
1.63
1.96
2.48
2.78
3.06
4.46
2.76
47.69
63
A2F100HC63
1RA
M63
0.59
1.90
2.16
2.48
2.95
3.25
4.47
2.76
36.40
75S
A2F100HC76
1RA
M75
0.59
2.13
2.44
2.99
3.31
3.64
5.39
3.60
74.11
75
A2F100HC76
1RA
M75
0.59
2.41
2.67
2.99
3.31
3.64
5.53
3.60
52.63
Dimensions are displayed in inches unless otherwise stated
COMBINED ORDERING REFERENCE
AVAILABLE ENTRY THREADS 'C'
OVERALL CABLE DIAMETER "A"
HOSE SIZE
ACROSS FLATS "D"
ACROSS CORNERS "D"
PROTRUSION
LENGTH "F"
HOSE CONNECTION
LENGTH "G"
CABLE GLAND WEIGHT
(kgs)
SIZE
TYPE
ORDERING SUFFIX
METRIC
THREAD LENGTH 'E'
MIN
MAX
"H"
MAX
MAX
20S16
A2F100HC16
1RA
M20
15.0
3.2
8.0
16.0
24.0
26.4
46.4
16
0.131
20S
A2F100HC16
1RA
M20
15.0
6.5
11.2
16.0
24.0
26.4
47.9
16
0.113
20
A2F100HC16
1RA
M20
15.0
7.0
13.5
16.0
27.0
29.7
51.8
16
0.1400
20
A2F100HC19
1RA
M20
15.0
7.0
13.5
19.0
27.0
29.7
55.8
20
0.140
20L
A2F100HC19
1RA
M20
15.0
8.7
14.0
19.0
27.0
29.7
54.3
20
0.138
25
A2F100HC 25
1RA
M25
15.0
11.5
19.5
25.0
36.0
39.6
67.4
27
0.240
25L
A2F100HC19
1RA
M25
15.0
14.0
20.0
19.0
36.0
39.6
59.9
20
0.236
25L
A2F100HC25
1RA
M25
15.0
14.0
20.0
25.0
36.0
39.6
66.9
27
0.238
32
A2F100HC32
1RA
M32
15.0
19.0
25.5
32.0
41.0
45.1
71.5
33
0.299
32L
A2F100HC25
1RA
M32
15.0
20.2
26.3
25.0
41.0
45.1
62.5
27
0.297
32L
A2F100HC32
1RA
M32
15.0
20.2
26.3
32.0
41.0
45.1
68.5
33
0.295
40
A2F100HC38
1RA
M40
15.0
25.0
32.2
38.0
50.0
55.0
79.8
41
0.430
50S
A2F100HC51
1RA
M50
15.0
31.0
38.2
51.0
55.0
60.5
95.4
54
0.838
50
A2F100HC51
1RA
M50
15.0
35.6
44.0
51.0
60.0
66.0
99.8
54
0.674
63S
A2F100HC63
1RA
M63
15.0
41.5
49.9
63.0
70.5
77.6
113.3
70
1.352
63
A2F100HC63
1RA
M63
15.0
48.2
54.9
63.0
75
82.5
113.6
70
1.032
75S
A2F100HC76
1RA
M75
15.0
54.0
61.9
76.0
84
92.4
136.9
91.5
2.101
75
A2F100HC76
1RA
M75
15.0
61.1
67.9
76.0
84
92.4
140.5
91.5
1.492
Dimensions are displayed in millimetres unless otherwise stated
Technical Illustration