Press Enquiry? Contact the CMP
Marketing Team on
+44 191 265 7411
Sign up to get the latest news delivered to your inbox
Wednesday, 29 June 2016
Join us at the Cigre Technical Exhibition 2016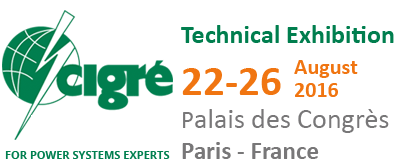 We're excited to be exhibiting at the Cigre Technical Exhibition 2016, which is taking place from the 22nd until 26th August in Paris, alongside other leading companies of the T&D (Transmission and Distribution) Industry.
Come join us at stand 347, level 3, where we will be discussing our extensive cable cleat range, as well as showcasing our bespoke software, which simulates short circuit conditions, allowing the most appropriate cable cleat to be selected.
CIGRE calls on international experts to exchange knowledge, share best practices and join forces for the Power System of Today and Tomorrow. More than 240 companies from 28 countries are exhibiting the highly anticipated event, with over 8500 industry specialists expected to visit.
Founded in 1921, CIGRE, the Council on Large Electric Systems, is an international non-profit Association for promoting collaboration with experts from all around the world by sharing knowledge and joining forces to improve electric power systems of today and tomorrow.
CIGRE counts more than 3 500 experts from all around the world working actively together in structured work programmes coordinated by the CIGRE 16 Studies Committees, overseen by the Technical Committee. Their main objectives are to design and deploy the Power System for the future, optimize existing equipment and power systems, respect the environment and facilitate access to information.