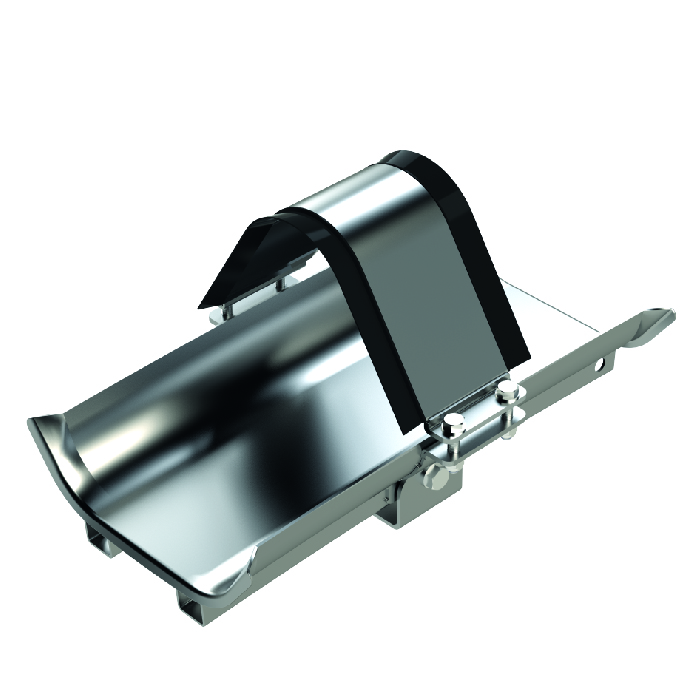 Want to discuss this product with one of the CMP Technical Team? Call one of our team now on
+44 191 265 7411
Titan (SCSS) High Voltage Trefoil Saddle Cable Cleat
We'd like to keep in touch
We have some exciting things in the pipeline - if you'd like to be the first to know please enter your email address below.
The TITAN cable support cleat has been designed, constructed and tested in accordance with the international standard IEC 61914:2015 cable cleats for electrical installations; to ensure the securing and retention of cables, without sustaining damage to the cable(s).
Designed to support cables in high voltage applications, the TITAN allows cable sag between fixed anchor points,
where desirable. Sagging cable between fixed anchor points is a method of installation where the cable is allowed to hang between the cleats. This area of excess cable will accommodate thermal expansion and contraction of the cable in service, without putting undue stress on the anchor points.
The TITAN adds additional support to the cable at the anchor points, ensuring there is no excessive pressure or point loading to the cable in these critical areas. The system is designed so that the support arm and cleat area can swivel and rotate, allowing flexibility to the installer.
The TITAN comes in three lengths; 400mm, 600mm and 800mm. This will accommodate larger cable cleat fixing centers, whilst reducing the pressure applied t the cable from its own weight.
The product can be fabricated to suit any installation parameters. Please contact CMP to discuss your specific project requirements.
Features
Third party tested in accordance with IEC 61914:2015
Highly corrosion resistant stainless steel
Sunlight (UV) resistant
Operating temperature -60°C to +90°C
Allows cable sag between fixed anchor points
Increased support reducing pressure on cable
Strong heavy duty construction
SHORT CIRCUIT TESTING TO IEC 61914 - CLAUSE 9.5
TREFOIL FORMATION
One Short Circuit 8.4m,
with intermediate restraints
Two Short Circuit 8.4m,
with intermediate restraints
142mm conductor centres
142mm conductor centres
1 sec
1 sec
183kA Peak
153 kA Peak
72 kA r.m.s
60 kA r.m.s
Type
6.1.3 Composite
Design Specification
IEC 61914:2015
Temperature for permanent application
-60°C to +90°C
IEC 61914 clause / part 6.2
Needle Flame Test
Pass - 120 seconds
IEC 61914 clause
10.0, 10.1, IEC 60695-11-5
Impact Resistance
Pass - Very Heavy
IEC 61914 clause 6.3, 6.3.5, 9.2
Material
Stainless steel
Liner Material
FR LSF / LSOH Polymer
Cable Formation
Trefoil
Jump to technical illustration
Fixing Pack Information
TITAN Part No.
Cable ø range take (inch)
Length (inch)
Dimensions (icnh)
Base Fixing
Weight (oz)
H
W
L
L2
W2
P
SCSS-100110-400
3.94 - 4.33
15.75
11.33
11.75
15.75
3.54
6.69
4.72
2 x M16
266.00
SCSS-100110-600
3.94 - 4.33
23.62
11.33
11.75
23.62
3.54
6.69
4.72
2 x M16
333.27
SCSS-100110-800
3.94 - 4.33
31.50
11.33
11.75
31.50
3.54
6.69
4.72
2 x M16
399.90
SCSS-110120-400
4.33 - 4.72
15.75
12.06
12.54
15.75
3.54
7.09
4.72
2 x M16
301.95
SCSS-110120-600
4.33 - 4.72
23.62
12.06
12.54
23.62
3.54
7.09
4.72
2 x M16
377.18
SCSS-110120-800
4.33 - 4.72
31.50
12.06
12.54
31.50
3.54
7.09
4.72
2 x M16
448.12
SCSS-120130-400
4.72 - 5.12
15.75
12.80
13.33
15.75
3.54
7.48
4.72
2 x M16
296.44
SCSS-120130-600
4.72 - 5.12
23.62
12.80
13.33
23.62
3.54
7.48
4.72
2 x M16
372.49
SCSS-120130-800
4.72 - 5.12
31.50
12.80
13.33
31.50
3.54
0.75
4.72
2 x M16
447.70
SCSS-130140-400
5.12 5.51
15.75
13.53
14.13
15.75
3.54
7.87
4.72
2 x M16
311.72
SCSS-130140-600
5.12 5.51
23.62
13.53
14.13
23.62
3.54
7.87
4.72
2 x M16
392.32
SCSS-130140-800
5.12 5.51
31.50
13.53
14.13
31.50
3.54
7.87
4.72
2 x M16
462.97
SCSS-140150-400
5.51 - 5.91
15.75
14.27
14.92
15.75
3.54
8.27
5.51
2 x M16
326.92
SCSS-140150-600
5.51 - 5.91
23.62
14.27
14.92
23.62
3.54
8.27
5.51
2 x M16
426.85
SCSS-140150-800
5.51 - 5.91
31.50
14.27
14.92
31.50
3.54
8.27
5.51
2 x M16
491.51
SCSS-150160-400
5.91 - 6.30
15.75
15.00
15.71
15.75
3.54
8.66
5.51
2 x M16
342.23
SCSS-150160-600
5.91 - 6.30
23.62
15.00
15.71
23.62
3.54
8.66
5.51
2 x M16
431.68
SCSS-150160-800
5.91 - 6.30
31.50
15.00
15.71
31.50
3.54
8.66
5.51
2 x M16
519.90
SCSS-160170-400
6.30 - 6.69
15.75
15.74
16.51
15.75
3.54
9.06
5.51
2 x M16
357.47
SCSS-160170-600
6.30 - 6.69
23.62
15.74
16.51
23.62
3.54
9.06
5.51
2 x M16
451.40
SCSS-160170-800
6.30 - 6.69
31.50
15.74
16.51
31.50
3.54
9.06
5.51
2 x M16
539.02
SCSS-170180-400
6.69 - 7.09
15.75
16.47
17.30
15.75
3.54
9.45
6.30
2 x M16
372.78
SCSS-170180-600
6.69 - 7.09
23.62
16.47
17.30
23.62
3.54
9.45
6.30
2 x M16
471.05
SCSS-170180-800
6.69 - 7.09
31.50
16.47
17.30
31.50
3.54
9.45
6.30
2 x M16
563.01
SCSS-180190-400
7.09 - 7.48
15.75
17.20
18.09
15.75
3.54
9.84
6.30
2 x M16
388.08
SCSS-180190-600
7.09 - 7.48
23.62
17.20
18.09
23.62
3.54
9.84
6.30
2 x M16
490.91
SCSS-180190-800
7.09 - 7.48
31.50
17.20
18.09
31.50
3.54
9.84
6.30
2 x M16
586.96
SCSS-190200-400
7.48 - 7.87
15.75
17.94
18.89
15.75
3.54
10.24
6.30
2 x M16
403.68
SCSS-190200-600
7.48 - 7.87
23.62
17.94
18.89
23.62
3.54
10.24
6.30
2 x M16
510.70
SCSS-190200-800
7.48 - 7.87
31.50
17.94
18.89
31.50
3.54
10.24
6.30
2 x M16
617.08
TITAN Part No.
Cable ø range take (mm)
Length (mm)
Dimensions (mm)
Base Fixing
Weight (g)
H
W
L
L2
W2
P
SCSS-100110-400
100-110
400
287.8
298.4
400
90
170
120
2 x M16
7541
SCSS-100110-600
100-110
600
287.8
298.4
600
90
170
120
2 x M16
9448
SCSS-100110-800
100-110
800
287.8
298.4
800
90
170
120
2 x M16
11337
SCSS-110120-400
110-120
400
306.4
318.5
400
90
180
120
2 x M16
8560
SCSS-110120-600
110-120
600
306.4
318.5
600
90
180
120
2 x M16
10693
SCSS-110120-800
110-120
800
306.4
318.5
800
90
180
120
2 x M16
12704
SCSS-120130-400
120-130
400
325.1
338.7
400
90
190
120
2 x M16
8404
SCSS-120130-600
120-130
600
325.1
338.7
600
90
190
120
2 x M16
10560
SCSS-120130-800
120-130
800
325.1
338.7
800
90
19
120
2 x M16
12692
SCSS-130140-400
130-140
400
343.7
358.8
400
90
200
120
2 x M16
8837
SCSS-130140-600
130-140
600
343.7
358.8
600
90
200
120
2 x M16
11122
SCSS-130140-800
130-140
800
343.7
358.8
800
90
200
120
2 x M16
13125
SCSS-140150-400
140-150
400
362.4
379
400
90
210
140
2 x M16
9268
SCSS-140150-600
140-150
600
362.4
379
600
90
210
140
2 x M16
12101
SCSS-140150-800
140-150
800
362.4
379
800
90
210
140
2 x M16
13934
SCSS-150160-400
150-160
400
381.1
399.1
400
90
220
140
2 x M16
9702
SCSS-150160-600
150-160
600
381.1
399.1
600
90
220
140
2 x M16
12238
SCSS-150160-800
150-160
800
381.1
399.1
800
90
220
140
2 x M16
14739
SCSS-160170-400
160-170
400
399.7
419.3
400
90
230
140
2 x M16
10134
SCSS-160170-600
160-170
600
399.7
419.3
600
90
230
140
2 x M16
12797
SCSS-160170-800
160-170
800
399.7
419.3
800
90
230
140
2 x M16
15281
SCSS-170180-400
170-180
400
418.4
439.4
400
90
240
160
2 x M16
10568
SCSS-170180-600
170-180
600
418.4
439.4
600
90
240
160
2 x M16
13354
SCSS-170180-800
170-180
800
418.4
439.4
800
90
240
160
2 x M16
15961
SCSS-180190-400
180-190
400
437
459.6
400
90
250
160
2 x M16
11002
SCSS-180190-600
180-190
600
437
459.6
600
90
250
160
2 x M16
13917
SCSS-180190-800
180-190
800
437
459.6
800
90
250
160
2 x M16
16640
SCSS-190200-400
190-200
400
455.7
479.8
400
90
260
160
2 x M16
11444
SCSS-190200-600
190-200
600
455.7
479.8
600
90
260
160
2 x M16
14478
SCSS-190200-800
190-200
800
455.7
479.8
800
90
260
160
2 x M16
17494
Technical Illustration