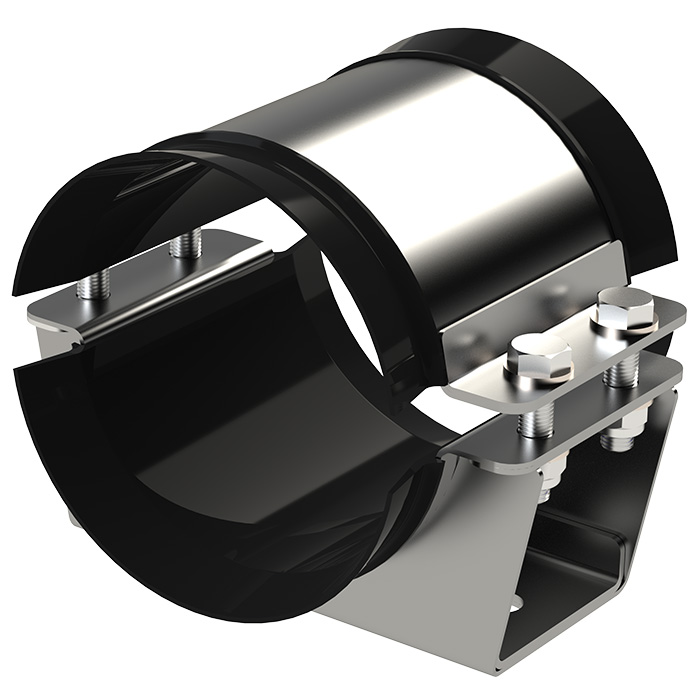 Want to discuss this product with one of the CMP Technical Team? Call one of our team now on
+44 191 265 7411
Olympus (SHVSS) Single High Voltage Cable Cleat
We'd like to keep in touch
We have some exciting things in the pipeline - if you'd like to be the first to know please enter your email address below.
CMP OLYMPUS single cable cleat is a composite cable cleat which has been designed, constructed and tested in accordance with the International Standard 'cable cleats for electrical installations' IEC 61914:2015 to ensure the securing and retention of cables, without sustaining damage.
The stainless steel section of this cable cleat can be optionally coated with an extremely high performance UL94 V0 flame retardant. This low toxicity polymer alloy coating is halogen free polymer and low smoke & fume, whilst being resistant to: impact, abrasion, salt spray, chemical attack, weathering & UV, making it perfectly suited for use in rail applications.
OLYMPUS cable cleats are designed to be installed as a system for use with High Voltage cable installations and can be manufactured in a standard set of cable diameter range or to suit specific project parameters.
Fabricated in non-magnetic 316L stainless steel, giving it high creep strength whilst providing excellent corrosion resistance in the harshest environments.
Flame retardant low smoke and fume, zero halogen(FR LSF/LSOH) polymeric fixed liners are fitted as standard, helping to:
Restrain the cables within vertical applications.
Provide a layer of protection to both the cable sheath and
the cable cleat, during normal operation where thermal
elongation of cable occurs.
Protect the cable from chafing on any mounting surface
due to differential movements, such as those found in
marine and offshore applications.
Assist in the extra protection of cables in the event of
short circuit fault conditions
Features
Third party tested in accordance with IEC 61914:2015
Available in 316L stainless steel
Sunlight (UV) resistant
Operating temperature -60°C to +90°C
Excellent axial and lateral load retention
SHORT CIRCUIT TESTING TO IEC 91614 - CLAUSE 9.5
PARALLEL FORMATION
TWO SHORT CIRCUIT 2.4m
TWO SHORT CIRCUIT 1.5m
290mm conductor centres

290mm conductor centres

1 sec
1 sec
176kA Peak
160kA Peak
63 kA r.m.s
64 kA r.m.s
Type
6.1.3 Composite
Design Specification
IEC 61914
Temperature for permanent application
-60°C to +90°C
IEC61914 clause / part 6.2
Needle Flame Test
Pass - 120 seconds
IEC 61914 clause
10.0, 10.1, IEC 60695-11-5
Material
316L Stainless Steel
Liner Material
FR LSF / LSOH Polymer
Cable Formation
Parallel
Lateral Load Test
33 kN
Axial Load Test
4.5 kN
Jump to technical illustration
Fixing Pack Information
Olympus Part No.
CABLE Ø RANGE
TAKE (in.)
Dimensions (in.)
Weight (oz)
W
H
D
P*
Fixing Hole ø
SHVSS090100
3.54-3.93

6.705

5.327

7.09

3.937

2 X M16
77.603

SHVSS100110
3.93-4.33

7.248

5.917

7.09

3.937

2 X M16
84.658

SHVSS110120
4.33-4.72

7.594

6.118

7.09

3.937

2 X M16
89.949

SHVSS120130
4.72-5.12

8.028

6.512

7.09

3.937

2 X M16
93.476

SHVSS130140
5.12-5.51

8.484

6.870

7.09

3.937

2 X M16
100.531

SHVSS140150
5.51-5.90

8.846

7.264

7.09

3.937

2 X M16
104.058

SHVSS150160
5.90-6.30

9.217

7.657

7.09

3.937

2 X M16
107.586

SHVSS160170
6.30-6.69

9.583

8.055

7.09

3.937

2 X M16
111.113

SHVSS170180
6.69-7.08

10.004

8.449

7.09

3.937

2 X M16
118.168

SHVSS180190
7.08-7.48

10.445

8.843

7.09

3.937

2 X M16
123.459

SHVSS190200
7.47-7.87

10.815

9.236

7.09

3.937

2 X M16
126.986

Olympus Part No.
CABLE Ø RANGE
TAKE (MM)
Dimensions (mm)
Weight (g)
W
H
D
P*
Fixing Hole ø
SHVSS090100
90-100
170.3
135.3
180
100
2 X M16
2200
SHVSS100110
100-110
184.1
150.3
180
100
2 X M16
2400
SHVSS110120
110-120
192.9
155.4
180
100
2 X M16
2550
SHVSS120130
120-130
203.9
165.4
180
100
2 X M16
2650
SHVSS130140
130-140
215.5
174.5
180
140
2 X M16
2850
SHVSS140150
140-150
224.7
184.5
180
140
2 X M16
2950
SHVSS150160
150-160
234.1
194.5
180
140
2 X M16
3050
SHVSS160170
160-170
243.4
204.6
180
140
2 X M16
3150
SHVSS170180
170-180
254.1
214.6
180
180
2 X M16
3350
SHVSS180190
180-190
265.3
224.6
180
180
2 X M16
3500
SHVSS190200
190-200
274.7
234.6
180
180
2 X M16
3600
Technical Illustration