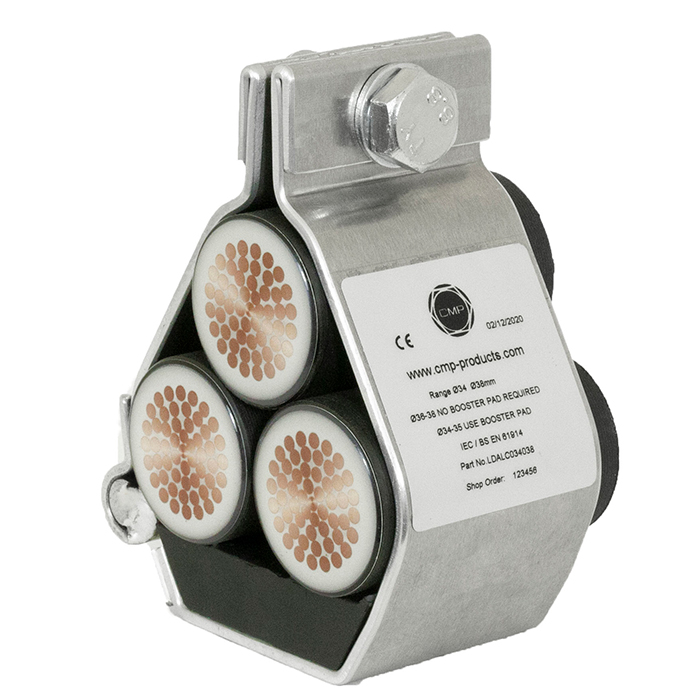 Want to discuss this product with one of the CMP Technical Team? Call one of our team now on
+44 191 265 7411
Legion Top opening Light duty aluminium hinged cable cleat
We'd like to keep in touch
We have some exciting things in the pipeline - if you'd like to be the first to know please enter your email address below.
The Legion cable cleats are metallic cable cleats which have been designed, constructed, and tested in accordance with the International Standard IEC 61914: Cable cleats for electrical installations, to ensure the securing and retention of cables, without sustaining damage to the cables.
The range is fabricated from 5000 series aluminium and is available in 23 sizes to suit cable diameters 19mm to 128mm.
The top opening is designed to fit more cleats installed side by side, whilst three M10 fixing clearance holes within each base,
allow the versatility of installing with either one M10 bolt or two M10 bolts. This enables installation of the Legion to a variety of mounting surfaces.
The hinge of the Legion opens fully, allowing cables to be easily placed within the cable cleat, before closing and securing via the mouth piece bolt.
FEATURES
• Third party certification to IEC 61914
• 5000 series aluminium
• 19 – 128mm in 23 sizes for trefoil formation/application
• Operating temperature -60°C to +60°C
• Combined single (M10) or two bolt (M10) fixing design
SHORT CIRCUIT TESTING TO IEC 91614 - CLAUSE 9.5
TREFOIL FORMATION
One short circuit 300mm fixed cleat centres
One short circuit 300mm fixed cleat centres
One short circuit 600mm fixed cleat centres
One short circuit 600mm fixed cleat centres
0.1 sec
1 sec
0.1 sec
1 sec
114kA Peak
71kA Peak
86kA Peak
55.2kA Peak
51.8kA r.m.s
33.8kA r.m.s
40.1kA r.m.s
26.2kA r.m.s
Type
6.1.3 Composite LDAL-C - Aluminum
Design Specification
IEC 61914
Temperature for permanent application
-60ºC to +60ºC
IEC 61914 clause 6.2
Needle Flame Test
Pass - 120 second flame application time
IEC 61914 clause 10.0, 10.1, IEC 60695-11-5
Lateral Load Test
Refer to CMP Products, IEC 61914 clause 9.3
Axial Load Test
Refer to CMP Products, IEC 61914 clause 9.4
Impact Resistance
Pass - Very heavy
IEC 61914 clause 6.3, 6.3.5, 9.2
Material
5000 Series Aluminum
Jump to technical illustration
Fixing Pack Information
LEGION PART NO.
CABLE ø RANGE TAKE (in)
DIMENSIONS (in)
WEIGHT (oz)
W
H
D
P
FIXING HOLE ø
D1
D2
LDALC019023
0.748-0.906
2.677
3.425
2.283
N/A
N/A
1 x M10
7.76
LDALC023028
0.906-1.102
3.307
3.780
1.969
0.984
2 x M10
1 x M10
7.34
LDALC027032
1.063- 1.260
3.307
4.094
1.969
0.984
2 x M10
1 x M10
7.58
LDALC031035
1.220-1.378

3.425
4.331
1.969
0.984
2 x M10
1 x M10
7.76
LDALC034038
1.339-1.496
3.576
4.528
1.969
0.984
2 x M10
1 x M10
7.94
LDALC037042
1.457-1.654
4.567
4.843
1.969
1.969
2 x M10
1 x M10
10.09
LDALC041046
1.614-1.811
4.567
5.118
1.969
1.969
2 x M10
1 x M10
10.34
LDALC045050
1.772-1.969
4.685
5.433
1.969
1.969
2 x M10
1 x M10
10.55
LDALC049055
1.929-2.165
4.882
5.787
1.969
1.969
2 x M10
1 x M10
10.86
LDALC052058
2.047-2.283
5.000
6.024
1.969
1.969
2 x M10
1 x M10
11.08
LDALC056062
2.205-2.441
5.787
6.299
1.969
2.953
2 x M10
1 x M10
12.91
LDALC060066
2.362-2.598
5.906
6.614
1.969
2.953
2 x M10
1 x M10
13.16
LDALC064070
2.520-2.756
6.063
6.890
1.969
2.953
2 x M10
1 x M10
13.40
LDALC068074
2.677-2.913
6.220
7.205
1.969
2.953
2 x M10
1 x M10
13.69
LDALC072078
2.835-3.071
6.378
7.480
1.969
2.953
2 x M10
1 x M10
13.97
LDALC076082
2.992-3.228
7.362
7.795
1.969
2.953
2 x M10
1 x M10
16.51
LDALC080086
3.150-3.386
7.480
8.071
1.969
2.953
2 x M10
1 x M10
16.76
LDALC084090
3.307-3.543
7.638
8.386
1.969
2.953
2 x M10
1 x M10
17.00
LDALC090098
3.543-3.858
7.953
8.976
1.969
2.953
2 x M10
1 x M10
17.57
LDALC098103
3.858-4.055
8.346
9.331
1.969
2.953
2 x M10
1 x M10
17.92
LDALC103111
4.055-4.370
9.252
9.921
1.969
2.953
2 x M10
1 x M10
21.02
LDALC111119
4.370-4.685
9.606
10.512
1.969
2.953
2 x M10
1 x M10
21.55
LDALC119128
4.685-5.039
10.315
11.181
1.969
2.953
2 x M10
1 x M10
22.19
LEGION PART NO.
CABLE Ø RANGE TAKE (mm)
DIMENSIONS (mm)
WEIGHT (g)
W
H
D
P
FIXING HOLE Ø
D1
D2
LDALC019023
19-23
68
87
58
N/A
N/A
1 x M10
220
LDALC023028
23-28
84
96
50
25
2 x M10
1 x M10
208
LDALC027032
27-32
84
104
50
25
2 x M10
1 x M10
215
LDALC031035
31-35
87
110
50
25
2 x M10
1 x M10
220
LDALC034038
34-38
90
115
50
25
2 x M10
1 x M10
225
LDALC037042
37-42
116
123
50
50
2 x M10
1 x M10
286
LDALC041046
41-46
116
130
50
50
2 x M10
1 x M10
293
LDALC045050
45-50
119
138
50
50
2 x M10
1 x M10
299
LDALC049055
49-55
124
147
50
50
2 x M10
1 x M10
308
LDALC052058
52-58
127
153
50
50
2 x M10
1 x M10
314
LDALC056062
56-62
147
160
50
75
2 x M10
1 x M10
366
LDALC060066
60-66
150
168
50
75
2 x M10
1 x M10
373
LDALC064070
64-70
154
175
50
75
2 x M10
1 x M10
380
LDALC068074
68-74
158
183
50
75
2 x M10
1 x M10
388
LDALC072078
72-78
162
190
50
75
2 x M10
1 x M10
396
LDALC076082
76-82
187
198
50
75
2 x M10
1 x M10
468
LDALC080086
80-86
190
205
50
75
2 x M10
1 x M10
475
LDALC084090
84-90
194
213
50
75
2 x M10
1 x M10
482
LDALC090098
90-98
202
228
50
75
2 x M10
1 x M10
498
LDALC098103
98-103
212
237
50
75
2 x M10
1 x M10
508
LDALC103111
103-111
235
252
50
75
2 x M10
1 x M10
596
LDALC111119
111-119
244
267
50
75
2 x M10
1 x M10
611
LDALC119128
119-128
262
284
50
75
2 x M10
1 x M10
629
Technical Illustration