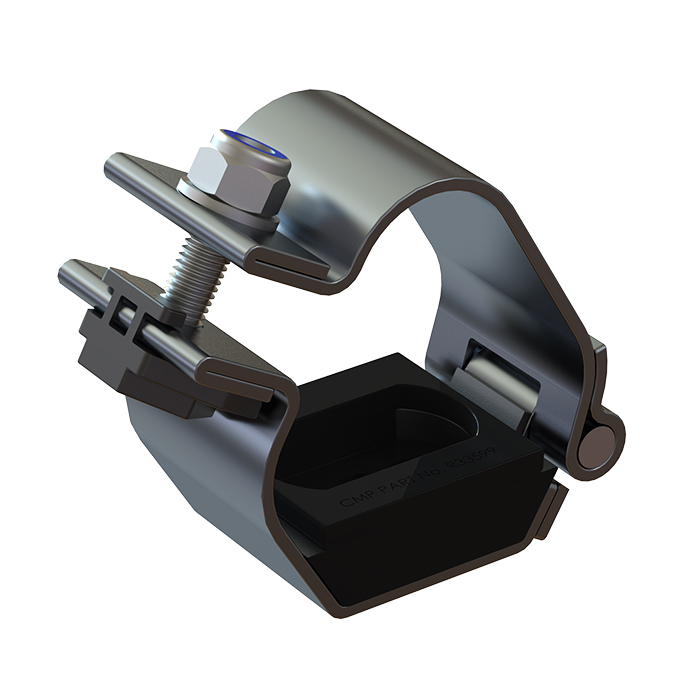 Want to discuss this product with one of the CMP Technical Team? Call one of our team now on
+44 191 265 7411
Centurion (LDAL-B)
We'd like to keep in touch
We have some exciting things in the pipeline - if you'd like to be the first to know please enter your email address below.
The Centurion cable cleats are metallic cable cleats which have been designed, constructed, and tested in accordance with the International Standard IEC 61914: Cable cleats for electrical installations, to ensure the securing and retention of cables, without sustaining damage to the cables.
The range is fabricated from 5000 series aluminium and is available in 23 sizes to suit cable diameters 19mm to 128mm.
The cleat has three M10 fixing clearance holes within one base, allowing versatility to the installer during installation to use either one M10 bolt or two M10 bolts, and is designed to enable the product to be secured to a variety of mounting surfaces. This enables installation of the Centurion to a variety of mounting surfaces.
The hinge of the Centurion opens fully, allowing cables to be easily placed within the cable cleat, before closing and securing via the mouth piece bolt.
Features
• Third party certification to IEC 61914
• 5000 series aluminium
• 19 – 128mm in 23 sizes for trefoil formation/application
• Operating temperature -50°C to +60°C
• Three M10 fixing clearance holes within one base
SHORT CIRCUIT TESTING TO IEC 61914 - CLAUSE 9.5
TREFOIL FORMATION
One short circuit 300mm fixed cleat centres
Two short circuit 300mm fixed cleat centres
One short circuit 600mm fixed cleat centres
Two short circuit 600mm fixed cleat centres
One short circuit 300mm fixed cleat centres
0.1 sec
0.1 sec
0.1 sec
0.1 sec
1 sec
112kA Peak
86kA Peak
86kA Peak
86kA Peak
71kA Peak
50.9kA r.m.s
39.1kA r.m.s
39.1kA r.m.s
39.1kA r.m.s
32.3kA r.m.s
Type
6.1.3 Composite
Design Specification
IEC 61914
Temperature for permanent application
-50ºC to +60ºC
IEC 61914 clause 6.2
Needle Flame Test
Pass - 120 second flame application time
IEC 61914 clause 10.0, 10.1, IEC 60695-11-5
Lateral Load Test
TBA
Axial Load Test
0.6kN
Impact Resistance
Pass - Very heavy
IEC 61914 clause 6.3, 6.3.5, 9.2
Material
500 Series Aluminium
Jump to technical illustration
Fixing Pack Information
CABLE CLEAT SELECTION TABLE
LEGION PART NO.
CABLE ø RANGE TAKE (in)
DIMENSIONS (in)
WEIGHT (oz)
W
H
D
P
FIXING HOLE ø
D1
D2
LDALB019023
0.748-0.906
4.055
3.268
2.008
0.984
N/A
2 x M10
7.97
LDALB023028
0.906-1.102
4.173
3.465
2.008
0.984
1 x M10
2 x M10
8.25
LDALB027032
1.063-1.260
4.331
3.583
2.008
0.984
1 x M10
2 x M10
8.47
LDALB031035
1.220-1.378
4.331
3.819
2.008
0.984
1 x M10
2 x M10
8.64
LDALB034038
1.339-1.496
4.409
3.937
2.008
0.984
1 x M10
2 x M10
9.14
LDALB037042
1.457-1.654
5.276
4.173
2.008
1.969
1 x M10
2 x M10
11.29
LDALB041046
1.614-1.811
5.354
4.331
2.008
1.969
1 x M10
2 x M10
11.11
LDALB045050
1.772-1.969
5.394
4.528
2.008
1.969
1 x M10
2 x M10
11.29
LDALB049055
1.929-2.165
5.512
4.921
2.008
1.969
1 x M10
2 x M10
11.64
LDALB052058
2.047-2.283
5.591
5.079
2.008
1.969
1 x M10
2 x M10
11.82
LDALB056062
2.205-2.441
6.339
5.433
2.008
2.953
1 x M10
2 x M10
13.47
LDALB060066
2.362-2.598
6.339
5.709
2.008
2.953
1 x M10
2 x M10
13.76
LDALB064070
2.520-2.756
6.417
5.984
2.008
2.953
1 x M10
2 x M10
14.00
LDALB068074
2.677-2.913
6.496
6.260
2.008
2.953
1 x M10
2 x M10
14.25
LDALB072078
2.835-3.071
6.575
6.575
2.008
2.953
1 x M10
2 x M10
14.53
LDALB076082
2.992-3.228
7.598
6.850
2.008
2.953
1 x M10
2 x M10
17.78
LDALB080086
3.150-3.386
7.677
7.165
2.008
2.953
1 x M10
2 x M10
17.04
LDALB084090
3.307-3.543
7.756
7.441
2.008
2.953
1 x M10
2 x M10
17.28
LDALB090098
3.543-3.858
7.992
8.031
2.008
2.953
1 x M10
2 x M10
17.85
LDALB098103
3.858-4.055
8.189
8.386
2.008
2.953
1 x M10
2 x M10
18.17
LDALB103111
4.055-4.370
9.409
8.976
2.008
2.953
1 x M10
2 x M10
22.26
LDALB111119
4.370-4.685
9.685
9.567
2.008
2.953
1 x M10
2 x M10
21.48
CABLE CLEAT SELECTION TABLE
LEGION PART NO.
CABLE ø RANGE TAKE (mm)
DIMENSIONS
WEIGHT (g)
W
H
D
P
FIXING HOLE ø
D1
D2
LDALB019023
19-23
103
83
51
25
N/A
2 x M10
226
LDALB023028
23-28
106
88
51
25
1 x M10
2 x M10
234
LDALB027032
27-32
110
91
51
25
1 x M10
2 x M10
240
LDALB031035
31-35
110
97
51
25
1 x M10
2 x M10
245
LDALB034038
34-38
112
100
51
25
1 x M10
2 x M10
259
LDALB037042
37-42
134
106
51
50
1 x M10
2 x M10
320
LDALB041046
41-46
136
110
51
50
1 x M10
2 x M10
315
LDALB045050
45-50
137
115
51
50
1 x M10
2 x M10
320
LDALB049055
49-55
140
125
51
50
1 x M10
2 x M10
330
LDALB052058
52-58
142
129
51
50
1 x M10
2 x M10
335
LDALB056062
56-62
161
138
51
75
1 x M10
2 x M10
382
LDALB060066
60-66
161
145
51
75
1 x M10
2 x M10
390
LDALB064070
64-70
163
152
51
75
1 x M10
2 x M10
397
LDALB068074
68-74
165
159
51
75
1 x M10
2 x M10
404
LDALB072078
72-78
167
167
51
75
1 x M10
2 x M10
412
LDALB076082
76-82
193
174
51
75
1 x M10
2 x M10
504
LDALB080086
80-86
195
182
51
75
1 x M10
2 x M10
483
LDALB084090
84-90
197
189
51
75
1 x M10
2 x M10
490
LDALB090098
90-98
203
204
51
75
1 x M10
2 x M10
506
LDALB098103
98-103
208
213
51
75
1 x M10
2 x M10
515
LDALB103111
103-111
239
228
51
75
1 x M10
2 x M10
631
LDALB111119
111-119
246
243
51
75
1 x M10
2 x M10
609
Technical Illustration