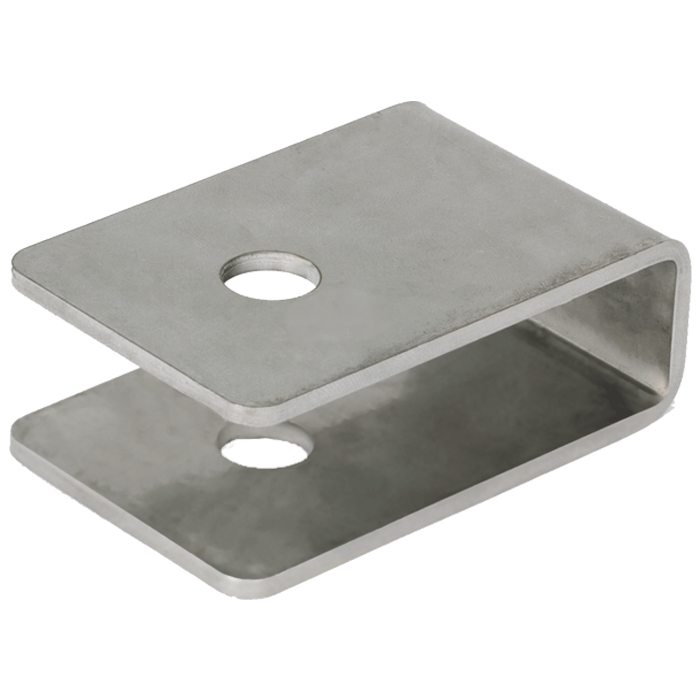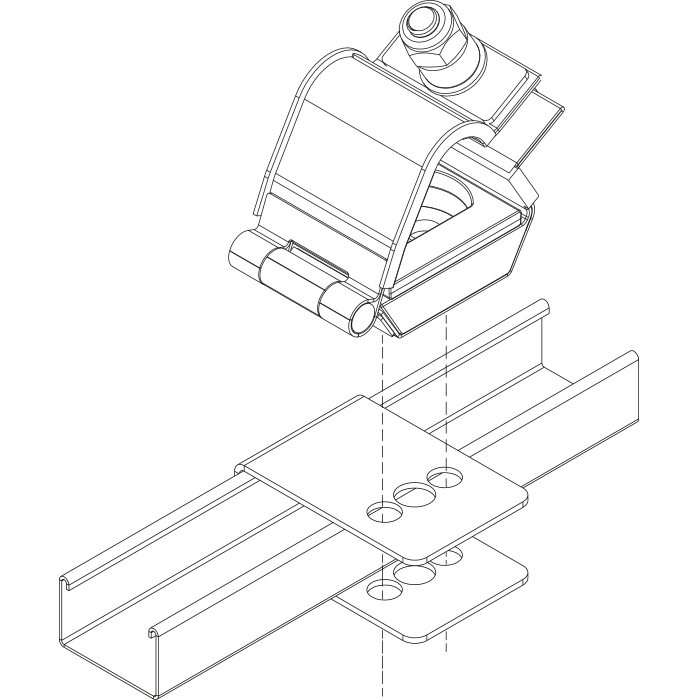 Want to discuss this product with one of the CMP Technical Team? Call one of our team now on
+44 191 265 7411
C-Clamp Designed to be used with plain or continuous ladder rungs, struts, or channel mounting frame
We'd like to keep in touch
We have some exciting things in the pipeline - if you'd like to be the first to know please enter your email address below.
The CMP C-clamp is designed to be used with plain or continuous ladder rungs, struts, or channel mounting frame which have no mounting slots or holes provided, to allow for ease of cable cleat mounting.
The CMP C-Clamp is manufactured from 316L Stainless Steel, and is supplied in various sizes to suit all CMP cable cleats as well as a wide variety of ladder rungs, struts and channel mounting frames. The design incorporates one M12 and two M10 clearance holes to allow for the flexibility of optional fixing positions to be used. The CMP C-clamps have been utilised and extensively tested during short circuit conditions as specified in IEC 61914 'cable cleats for electrical installations'.
The product is supplied as a complete fixing pack which includes fixing bolt, C-Clamp spacer, washes and nyloc nut.
CMP is also able to manufacture bespoke C-Clamps to suit your installation requirements. If a bespoke C-Clamp is required, the width, W, and height, H, of the rung is required from the customer.
Jump to technical illustration
Fixing Pack Information
Technical Data & Classification

Type
6.1.1 Metallic C-Clamp
Design Specification
IEC 61914
Material
316L Stainless Steel
Cleat Identification

Fixing Type
Name
1 BC Range
Sabre
Valiant
Solace
1 Bold Fixing Hole
Cyclone I / II / III
Patriot
Sovereign
Conqueror
Huron
Reliance
Sapphire
2 Bolt Fixing Hole
Cyclone I / II / III
Patriot
Sovereign
Conqueror
Huron
Reliance
Sapphire
2 BC Range
Falcon
Zenith
Themis
1. Ladder / Strut / Mounting Surface Dimensions
CFP-CC-A
CFP-CC-B
CFP-CC-C
CFP-CC-D
CFP-CC-E
CFP-CC-F
Height
Inches
1/2"
1"
1"
3/4"
1"
1"
mm
12.7
25.4
25.4
19.05
25.04
25.4
Width
Inches
1-1/2"
1-5/8"
1-1/2"
25/32"
1"
1-1/8"
mm
38.1
41.275
38.1
19.84
25.4
28.6
2. C-Clamp Product Codes
Fixing Type
Bolt Size/ Pitch
CFP-CC-A
CFP-CC-B
CFP-CC-C
CFP-CC-D
CFP-CC-E
CFP-CC-F
1BC Range
or
1 Bolt Fixing Hole
M10
CFP-CC-A-M10
CFP-CC-B-M10
CFP-CC-C-M10
CFP-CC-D-M10
CFP-CC-E-M10
CFP-CC-F-M10
M12
CFP-CC-A-M12
CFP-CC-B-M12
CFP-CC-C-M12
CFP-CC-D-M12
CFP-CC-E-M12
CFP-CC-F-M12
2 Bolt Fixing Holes

P = 25
CFP-CC-A-25
CFP-CC-B-25
CFP-CC-C-25
CFP-CC-D-25
CFP-CC-E-25
CFP-CC-F-25
P = 50
CFP-CC-A-50
CFP-CC-B-50
CFP-CC-C-50
CFP-CC-D-50
CFP-CC-E-50
CFP-CC-F-50
P = 75
CFP-CC-A-75
CFP-CC-B-75
CFP-CC-C-75
CFP-CC-D-75
CFP-CC-E-75
CFP-CC-F-75
2BC Range
P = 67
CFP-CC-A-67
CFP-CC-B-67
CFP-CC-C-67
CFP-CC-D-67
CFP-CC-E-67
CFP-CC-F-67
P = 78
CFP-CC-A-78
CFP-CC-B-78
CFP-CC-C-78
CFP-CC-D-78
CFP-CC-E-78
CFP-CC-F-78
P = 90
CFP-CC-A-90
CFP-CC-B-90
CFP-CC-C-90
CFP-CC-D-90
CFP-CC-E-90
CFP-CC-F-90
P = 104
CFP-CC-A-104
CFP-CC-B-104
CFP-CC-C-104
CFP-CC-D-104
CFP-CC-E-104
CFP-CC-F-104
P = 118
CFP-CC-A-118
CFP-CC-B-118
CFP-CC-C-118
CFP-CC-D-118
CFP-CC-E-118
CFP-CC-F-118
P = 131
CFP-CC-A-131
CFP-CC-B-131
CFP-CC-C-131
CFP-CC-D-131
CFP-CC-E-131
CFP-CC-F-131
P = 143
CFP-CC-A-143
CFP-CC-B-143
CFP-CC-C-143
CFP-CC-D-143
CFP-CC-E-143
CFP-CC-F-143
P = 158
CFP-CC-A-158
CFP-CC-B-158
CFP-CC-C-158
CFP-CC-D-158
CFP-CC-E-158
CFP-CC-F-158
P = 172
CFP-CC-A-172
CFP-CC-B-172
CFP-CC-C-172
CFP-CC-D-172
CFP-CC-E-172
CFP-CC-F-172
Technical Illustration